Anyone who spends most of the time in the kitchen will agree that efficiency matters when it comes to cooking. Having the best cooking pots and other kitchenware is crucial if you want to complete your chores early. A case example is when you buy that ceramic frying pan which is not only non-stick but also easy to clean unlike other cookware metals.
Factors to consider when buying a frying pan
The most important factor that comes in your mind is the price isn't it? Actually, it's the rule of the thumb to always invest in the best. Save for quality ceramic pans. The cheap and inferior quality frying pans do not last for long. A good frying pan will be capable of serving your for years.
Another key factor is the heat conductivity of the pan. Always go for those ceramic frying pans that do not take long to be heated up. High quality ceramic pans will be quick and eases your cooking. A good frying pan will be hustle free as your will not need a lot of heat to get your food ready hence saving on gas.
Also, it is important to look at the durability of the frying pan. A good frying pan will have a longer lifespan as it is made of thick insulating ceramic material. This prevents damages caused by frequent stirring and therefore retains its shape.
Benefits of owning a ceramic frying pan
One of the major benefits of owning a ceramic pan is that you can exploit the non-stick nature of the pan. You will also enjoy the tasteful and impurities-free food. You will save money as you will not need to go for that regular polishing of the pans due to rust and acidic corrosion. These ceramic pans reduce the risks of getting cancer as a result of heavy metals like lead.
It goes without saying that food cooked with these ceramic pans tastes better. There are minimal cases of overcooking of food as experienced in metal frying pans. Food cooked in these pans will retain its nutrients making it tasteful. For those are busy and do not have time for doing the dishes, the non-stickiness of these pans is a plus on your side.
Top 3 Bestselling ceramic frying pans in the market are as follows
1. The Stone Earth Pan by Ozeri – $32-$50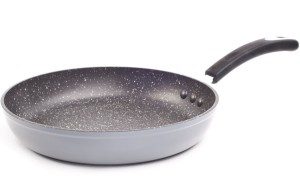 It utilizes natural stone from Germany; it is tested to be 100% free from PFOA (a harmful chemical found in organic materials). It is eco-friendly and gives that non-stick feature without necessary producing toxic fumes at high temperatures. This stone is scratch resistant making it easy to clean. It has a plastic handle fixed with rivets and has a magnetic base to speed up when heating using induction cookers.
Click Here to Read the Full Review Directly on Amazon
2. WearEver C9440774 Pure Living Ceramic Coated Pan – $20-$35
It has a scratch resistant durable ceramic coating. It's PTFA-PTOA free making it safe for use and environmentally friendly. It comes in 12' size and its high quality aluminium base allows equal heat distribution. It has soft silicone handles to increase your grip and reduce strain.
Click Here to Read the Full Review Directly on Amazon
3. Excel Steel Professional Aluminium Frypan with Ceramic Non-stick Coating – $24-$29
It is of high quality and durable. Its ceramic surface provides a non-stick experience. Its base constructed using aluminium so no harmful metals such as lead. It also helps to distribute when the induction heating is used. It has a Bakelite handle which is fireproof.
Click Here to Read the Full Review Directly on Amazon